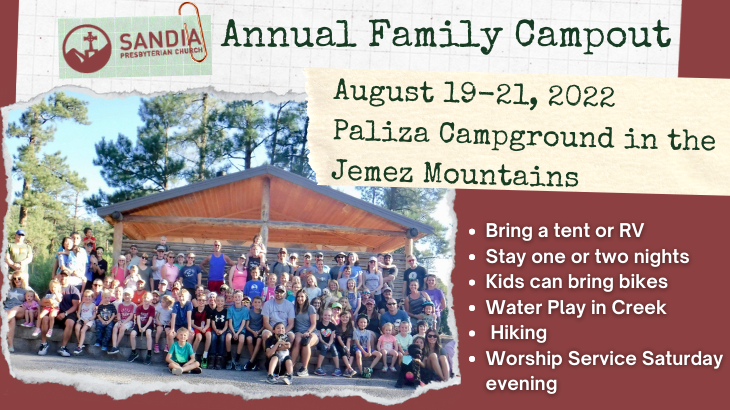 Friday, August 19, 2022
,
12:00 PM - Sunday, August 21, 2022, 1:00 PM
Come join us for our annual Family Campout in the beautiful Jemez Mountains! All families are welcome including families with kids or teens or couples and singles without kids! Tents / RV's / Trailers are all welcome! This special weekend has become a favorite weekend to spend time with fellow church members. Kids can bring bikes or toys to play at the campground and it's always fun to play in the creek! Bring lawn chairs or hammocks and enjoy relaxing in the mountains with a mostly unscheduled weekend! The one scheduled event is dinner together on Saturday evening about 5:00 and the worship service to follow. Kids have a special craft time on Saturday afternoon too! Families can stay both Friday and Saturday nights or just come and stay one night. We've reserved the Paliza group campground and will have the place to ourselves! Families can come first come, first served to grab a camping spot! Paliza campground has toilets but no water or hookups. Cost for the weekend is $20 per camping spot or family! This will include the meat for your Saturday evening meal and the craft for kids on Saturday evening plus the cost of the campground.
Contact Family Campout Coordinator, Leslie Starr at with questions.
The campground is currently under flood alert and may not be open in time for our Family Campout. In light of the uncertainty, no payment is necessary at this time.