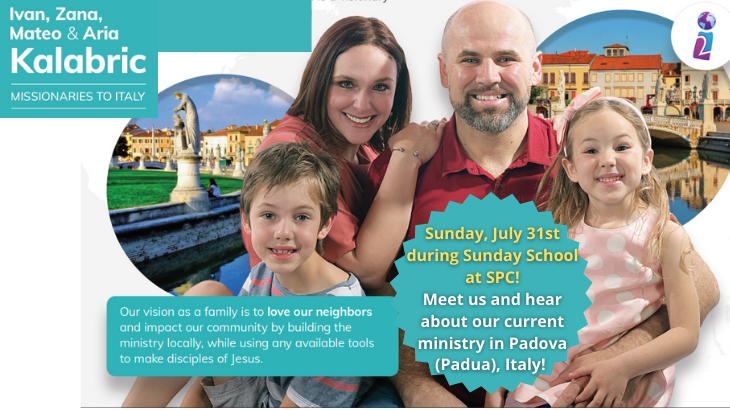 Sunday, July 31, 2022
,
10:45 AM - 11:45 AM
Ivan & Zhana Kalabric, good friends of SPC members Donna Brown and Hans Van Zundert, will be visiting Sandia Presbyterian on Sunday, July 31, to give a Sunday school class to tell us about their current ministry in Padova (Padua), Italy. Ivan is Serbian and Zhana is Bosnian. Since they graduated in 2015 they have served in the Netherlands, Cyprus, the Middle East, and Italy, planting churches and bringing people to Christ through small groups and Bible study. Ivan's gifts are disciple-making, networking and leadership development, while Zhana is a visionary and strategic leader and a certified Christian counselor which she sees as a tool for discipleship. They serve together as in Padova, and are planting a church of all nations that will reflect cultural and ethnical diversity of the city. While staying based in Italy, they are hoping to begin spreading the Word of God in Serbia. This summer Ivan and Zhana are traveling throughout the United States to introduce their work in churches. Besides their passion for mastering Italian language and exploring new cultures, their prime joy comes from parenting Mateo and Aria.
They moved to Italy in Feb 2019 with a passion to see individuals and young families transformed by the Gospel and help people discover their God-given gifts and identity in Christ. As they love their neighbors and build their ministry locally, their prayer is that God would expand their neighborhood and spread the ministry to the region of West Balkans where they come from.
One friend of Ivan, who had been a Muslim and is now a Christian, said of his friendship with Ivan, "At some point, I realized there is something which was emptiness in my heart and mind and in my life. And to fill this emptiness I decided to go to the Quran to find answers, but unfortunately the Quran failed me. I realized the Quran gives you orders, and the Bible gives you life."