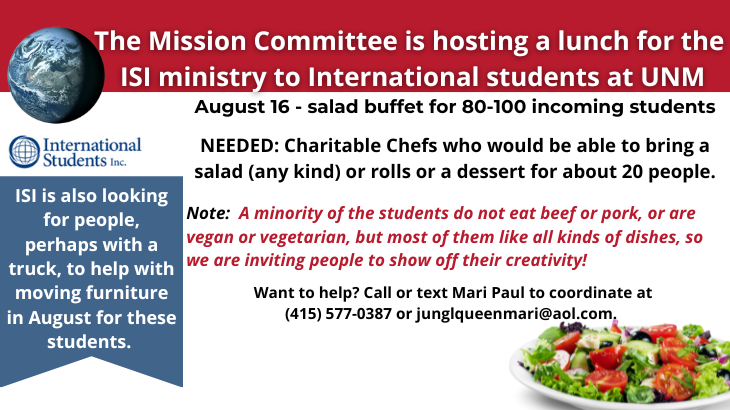 Tuesday, August 16, 2022
,
12:00 PM - 1:30 PM
ISI is looking for people, perhaps with a truck, to help with moving furniture in August for these students.
The Mission Committee is hosting a salad buffet lunch for the ISI ministry to International students at UNM and anticipate serving 80-100 incoming students
We are looking for Charitable Chefs who would be able to bring a salad (any kind) or rolls or a dessert for about 20 people.
Note that a minority of the students do not eat beef or pork, or are vegan or vegetarian, but most of them like all kinds of dishes, so we are inviting people to show off their creativity.
Please have your food at the ISI Welcome Center by 12:00pm, ready to serve. The address is 401 University Blvd NE, (NW corner of University & Martin Luther King). Enter the parking lot from Martin Luther King. (contact person there - Jean Lachaise 505-238-6064).
If anyone can help, call or text Mari Paul (415) 577-0387 or email her to coordinate.